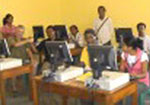 Info Timor (IT) crew with Andrew Mahar from InfoXchange Australia are in Suai and finalising the set-up of the computer workshop and training room at the Community Centre. This photograph shows students at the computers in the new training room. As Simao said in a text message this week, it is a 'dream of the last two years is happening now' with the establishment of the computer centre.
Weekly training is being planned by InfoTimor with Alipio from Baucau who will travel to Suai each week to assist with building the computer centre into a business enterprise. Alipio set up the Baucau operation and the plan is that the Community Centre will set up an Internet Cafe along with the Youth Centre to deliver internet to the local community.
You can follow any responses to this entry through the RSS 2.0 feed. Both comments and pings are currently closed.