We reported in July that the Friends of Suai planned to hold a Civic Reception for the Friends of Suai in Port Phillip and a Schools Forum, in September this year.  The Schools Forum was held in September and was attended by 150 students and teachers.  The  Civic Reception  is now being held on the 18th October.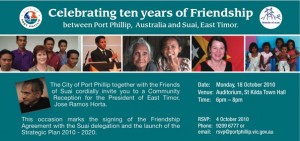 The City of Port Phillip together with Friends of Suai have issued a public invitation to  you to attend a Community Reception. It will be attended by  the Timor-Leste Ambassador to Australia, Abel Guterres, Deputy District Administrator Covalima, Teofilo do Carmo and Community Centre Coordinator Alberto de Jesus Barros.
The event will be given some sparkle with the musical presence of the DILI ALLSTARS (Acoustic Band) & the Tebe Cultural Group which includes Timorese singers and dancers from the Victorian community.
The occasion is being planned to celebrate Port Phillip Council signing of a  Friendship Agreement that will see the community friendship with Suai continue for another ten years.  A brief history of the friendship in the form of a bookazine will be launched together with a strategic plan that outlines the priorities of the group over the next ten years.
Date: Monday 18 October, 2010
Venue: Auditorium, St Kilda Town Hall
Time: 6 pm – 8 pm
RSVP: 4 October 2010
Phone: 9209 6777 or Email: rsvp@portphillip.vic.gov.au
President of Timor Leste has sent his apologies for not being able to attend this event as planned.
You can follow any responses to this entry through the RSS 2.0 feed. Both comments and pings are currently closed.