Connections across the Timor Sea 1941-2010 was an exhibition put together by the Friends of Suai as the first of a range activities planned to celebrate ten years of friendship with Suai. The exhibition was mounted  in partnership with local filmmaker Jen Hughes, artist Liz Milsom photographer Richard Jones and the Suai Youth Centre.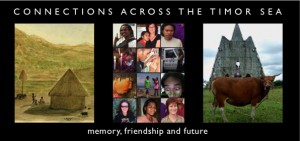 Held from mid-May to mid-June the exhibition included a video installation by Jen Hughes, Watercolours, letters, artefacts by Sgt George Milsom and Photographs by Suai youth.  It was opened by Abel Guterres, Timor-Leste Ambassador to Australia.
Jen Hughes has been following the Friends of Suai friendship and documenting it since December 1999. In her video titled 'Unforgettable Selections from a Friendship'. Jen took the opportunity to bring some of that experience to the audience and highlight some of the art of Suai youth documented in the streets of Suai, or on canvas, in workshops and on-line using new media tools in suaimediaspace.ning.com. George Milsom is the father of Port Phillip local artist Liz Milsom, who is a member of the Friends of Suai. George Milsom enlisted in the army and became a member of the 2/40th Battalion, that travelled to Kupan in Dutch Timor on the 8th December 1941. He later joined the 2/2nd battalion in East Timor. You can read more about him here. The photographs in the exhibition were taken by Suai youth in a photography workshop with Richard Jones in Suai in 2009 which is documented here.
You can follow any responses to this entry through the RSS 2.0 feed. Both comments and pings are currently closed.