Suai Market at the centre of town with lots happening in 2011
This year I set out with another full agenda and as usual we have too many stories to tell to share with you on Suai Media Space.
In this post I want to tell you what Suai felt like this trip because its ten years since our Friendship began and seven years since I took on the role as coordinator for the Friends of Suai.
I always look first to the market to see how much food there is and the variety of food available. From the little video here you can see what the market was like in 2000. People were living and working under tarpaulins that leaked when it rained and food was in very short supply.
When I first visited Suai in 2005 the situation was better than in 2000 when people were hungry because crops had been burned and homes destroyed in 1999. By 2005 when I arrived there was still malnutrition and hunger and although there was food in the market it was still there in small piles and the variety was limited. This was not all due to the 1999 conflict. Floods followed by drought were affecting Covalima.
In 2011 Covalima and the whole of Timor-Leste was affected by ongoing rain, the same weather pattern affecting northern Australia. The farmers have not had a suitable planting season for maize and rice, however the Saturday markets were plentiful with greens and other vegetables more than I have seen before.   The variety of food has improved and the quantity has improved. Also a greater variety of other merchandise was available including pots, pans, bike inner tubes, fly wire screens, plastic toys indicating their was more ready cash available for some. The number of people trading working and buying in the market had increased.
The Covalima-Dili road (both roads) are in the worst state ever due to the rain, this is affecting the movement of the usual traffic, so there were less people coming to town.
The wind down by the UN toward 2012 is being felt too with numbers of people pulling out of town and not all being replaced. There is a flurry of 'development' coming with the electricity power line being outside town and the Portuguese Telecom crew erecting a new communications tower. With the promise of the oil and gas supply base, a new wharf and revamp of the airport with talk of implementation of the Polytechnic plan for the 'school of petroleum and tourism' there is a strange anticipation in the air, although public information is slow to reach  the local community from Dili.
Some of the international people were arriving on the UN helicopter or the MAF charter flight but generally it was quiet apart from some construction teams managing to brave the conditions. Government cars are numerous now, motorbikes are everywhere and there are regular buses to areas of  Covalima and neighbouring districts as well as to Dili and West Timor to buy goods.  There is more money in the community due to pensions and payouts by the government so the increased cash flow is showing with new houses going up and people have access to secondhand clothing on sale at the market.
The iconic unfinished church in the grounds of Our Lady of Fatima School is changing shape too. The three-pointed façade has gone and some of the locals are not happy about that.  It is being built with local donations and church money and other funds and will become the main church in the town.
In the slideshow are drawings by Australian War Artist Wendy Sharpe Christmas 1999-2000.  Another is a drawing by  Suai Loro Artist Natalino dos Reis titled 'Friendship'. You can see more of his art and the art of other Covalima artists here.  The third (Canossa Cow) is a photograph by Livania de Jesus. Cannosa Cow was taken in the Friends of Suai Photography Workshop in 2009. This and other photographs were exhibition in Connections Across the Timor Sea Exhibition held in the St Kilda Town Hall Gallery as part of our ten year friendship celebrations in 2010.
The Suai Church rebuilt in 2010 was too small before it was completed with hundreds of churchgoers in the grounds each Sunday to take communion.  This is very significant for the people of Suai – read our story about it and see the paintings and drawings by Australian War Artists Wendy Sharpe and Rick Amor in here for more.
Another landmark structure on the school grounds was a huge traditional house built with USAID money by local carpenter Felix Correira and the Bunak men from the mountains near Suai. Click on the thumbnail to go to interview with carpenter in 2000.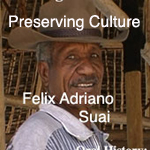 Last year for some unknown reason this beautiful building collapsed.  Our local filmmaker Jen Hughes filmed it being built in 2000. You can see  interview with Snr. Felix Correira here. (video of building  to come)
You can follow any responses to this entry through the RSS 2.0 feed. Both comments and pings are currently closed.