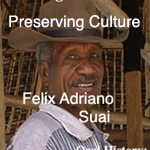 This short oral history with Senor Felix Adriano a carpenter in East Timor Suai, subtley conveys the impact of colonialism and the international competition for rights to the oil and gas reserves  in the Timor Sea on the life and language of a Timorese who was born in to Portuguese Timor. Senor Felix lived through the Indonesian invasion and saw Independence arrive in 1999, only to suffer further through the Suai Church Massacre until there came a time when his skills came to the fore again in the re-building of Suai in 2000 as he over-saw the building of a large traditional house on the site of Our Lady of Fatima Church where the Suai Church Massacre took place. (Dur: 5 mins)

Check out the photograph of the finished building which is possibly the largest traditional structure in East Timor.
You can follow any responses to this entry through the RSS 2.0 feed. Both comments and pings are currently closed.