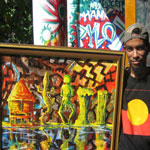 Political Commentary Portraits of Emotion Traditional Culture Landscape
From photographs of Gibrael's work we have selected rough categories: Political Commentary, Portraits of Emotion and Traditional Culture . We have also included his surreal landscape work.
Gibrael reflects on the internal. Particularly in his painting Nahe biti Timor – Unfold the Mat – he is considering the future of unborn children of the world, sheltered by the roof of the sacred house crowned by some buffalo horns and embraced by the curve of a larger set of horns from beneath the house.  (The biti is the woven mat used to lay on the dirt floor for conversations, meetings and conciliation.) His portrait of the man seated staring into nowhere titled 'Forgotten' is a work of great beauty and pain as well as political comment.
In Leno No Fase the sacred house patterned stunningly in tais patterns from Cova Lima stands between small figures hanging on to the buffalo horns to save themselves from drowning. The mythical crocodile is curled between them and their home;  behind the house is a tunnel,  possibly representing the future,  folded and patterned with tais.
Gibrael has something to say about consumerism in his 'untitled' and the tunnel is once again featured with a woman dragging a bag full of branded wrappers and containers towards the future while alongside it he has painted the "Fresh Jungle" in which we see he is recalling a lost paradise.
In 'I am Shy' he has painted into the scene the paraphenalia of modernism and a profusion of cultural icons in the form of U.S. bank notes and the Australian Opera House among others, alongside guns and skulls, that tell a story of the impact of the international community and conflict in East Timor.
Photographs of Gibrael's work were given to Suai Media Space by Gabriela Manager of Arte Moris in May 2009.