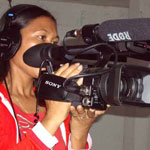 Unemployment is high among young men and women in Cova Lima. A very large percentage of the rural population do not read. When the Co-ordinator of the
Youth
Centre,
Ergilio Vicente
attended a media workshop in 2005, mounted by Oxfam, he became aware of the potential of media for community education and requested the
Friends of Suai
provide the Centre with media equipment and training. The arrival of the media package in February 2006 led to the formation of
YoMaTre
within the Youth Centre that year. Further workshops in video, photography and digital storytelling were held in 2006, 2007, 2008 and 2009.

In 2008 the International Centre for Journalism began planning the development of 5 media centres in the districts of East Timor to enable rural centres to contribute to national news on Timor Online. Emanuel Braz contacted the Friends of Suai and Ergilio Vicente at the Youth Centre with the proposition that they host an 'Uma Media' (Media House), for Suai.  A satellite dish was installed alongside the Youth Centre in late 2009 and ICFJ delivered new computers and editing software, as well as studio furniture and journalism training. This led to both the Youth Centre and the Friends of Suai Community Centre having Broadband access and all of the benefits and complications that flow from that. A salaried position exists in the Youth Centre for a Co-ordinator who leads YoMaTre activities. At the present time Chamot holds that position. In 2008 we established the
Suai Media Space Social Network
to provide an easy to use on-line socialising space for the youth of Suai,  and the Friends of Suai at the Community Centre in Suai and in Port Phillip.  The social network has surpassed the WordPress software that is the engine for this site for ease of use. It is here that visitors can meet people from Suai and their friends, see their skills developing as they upload photos, videos and music and experiment with multimedia on-line.