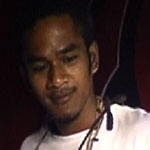 Sergio da Costa has spurned the opportunity to study and live at Arte Moris in Dili, preferring to live in Suai with his family and his community. He has received the support of many international visitors to Suai in the form of materials and purchases of his work and this shows in his work as it progresses from pencil drawings and wall art in 2000 to water colours and oils in 2008.
Sergio is the only artist for whom we have work that progresses over time from 2000 to 2008 which enables us to see his changing interests and responses to commissions from Port Phillip.
It is not unusual for Sergio to paint on board and hang it outside his home until he finds a buyer. This is the case with his portrait of Timorese hero and first President after Independence in 1975: Nichalao Lobatu and the painting of Osama Bin Laden Khomeni, Saddam Hussein and others after 9/11. Asked why he painted these people, given that painting them and displaying them publicly could cause him trouble with local police and others in the community, he replied simply "to sell, people buy them".
Considering Sergio lives in Suai, a full day's drive from Dili, it's interesting that his portraits are frequently of historical political figures and leaders in the international community. His portraits of youth and local people in the main show them as they are in their everyday life, in western style  clothing.
The painting of the traditional man holding a rooster indicates a very clear movement towards using traditional imagery for commercial purposes. It was commissioned by Pat Jessen after she saw another similar very large painting of a traditional man alongside a Los Palos style house. Pat requested a painting of the traditional man in a smaller painting located in Cova Lima. The painting has been rendered in very simple form, lacking the character detail more characteristic of his work.  Painted in haste perhaps: the man's dress is neither patterned in the Indonesian style commonly worn or as tais, the sky is very simple and the landscape itself has very little detail.
The drawings in the collection tell a story of the time when they were produced before July 2000. They include three portraits of youth conveying the agony of their suffering; portraits of two leaders one of Xanana as a leader gagged and tortured as a prisoner of the Indonesians and the suited professor-like image of a 'big leader of the militia' whom he names. The other drawings show the sadness of suffering from hunger, conflict and humiliation of the people around him. One particularly poignant work of a young woman painted on to the wall of a laneway conveys with subtlety and compassion the young woman's loss of dignity.