Suai Media Space is the on-line home of the Suai Media Arts Documentary project:  a social media project connecting the people of Suai East Timor with Port Phillip Melbourne, Australia and the world community. It's a place to assist in building relationships to help in the recovery of Suai which was destroyed in post-ballot conflict in September, 1999.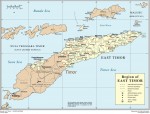 The impulse for the site came from the formation of the Friends of Suai in Port Phillip, in 2000.
Friendship between Port Phillip and Suai is facilitated by the the Friends of Suai in Port Phillip and Suai The Covalima Youth Centre, and the Youth Media Centre . The International Centre for Journalists (East Timor) (ICFJ) installed Broadband at the Youth Media Centre (YoMaTre) in June 2009.
We have set out to test the concept of a global friendship instigated in our local and regional neighbourhood and make a documentary about it. The result is evolving on Suai Media Space and in Suai with your help.
Suai Media Space is:
•    building understanding and friendship with East Timor.
•    helping the youth of Suai achieve their dreams
•    helping in the recovery of Suai
How is it doing this:
Providing background history about the places, people and culture of both communities.

Creating the place for people in both communities to communicate and form friendships.
Bridge the digital divide and encourage skills development for future livelihoods.


Create and enable opportunities for socialising and participation using the creative arts.



Develop

friendship networks

,

particularly for the youth in Suai

.

Provide documentary stories about friendship experiences to inspire others to take the journey.




Provide

a space for the Friends of Suai to report their project activities.
How can you participate?
It's the dream of the Suai Youth:
"for the voices of the youth of Suai to be heard all over the world"
Socialise, read the stories and poetry from Suai, watch the videos, view the art and graffiti and COMMENT, Introduce yourself, share stories, photos, videos, write letters to each other through the Suai Media Space.NING OR request to become an Author or contributor, link your site or blog, fundraise and assist the Friends of Suai. Ask questions, email. See 'Contributing'.