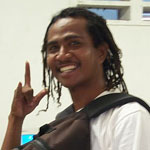 Egy's Profile on suai media space social network.
Egy's Profile on Facebook.

Ergilio came into the story of friendship between Port Phillip and Suai comparatively early. In about August 2000 I was introduced to Ergilio by Adriano do Nacimento. I was following with my camera, the story of the gifts donated by the residents of Port Phillip to East Timor during the crisis period of late 1999 and early 2000. Ergilio was a member of the Student Solidarity Movement and when I met him he was the Student Leader for Suai. Adriano was a member of CNRT from Suai who was the contact person for the Friends of Suai in East Timor. When we met we discussed the possibility of setting up a media unit in Suai and collaborating in the making of an on-line documentary about the emerging friendship between our communities.
Ergilio became the Co-ordinator of the Youth Centre. (Centru Juventude Covalima) and our paths crossed again in 2003 when I returned to Suai following another stage in the friendship with Lee Kirk who was the Co-ordinator of the Friends of Suai from 2002 to 2004. He was organising computer literacy and English classes for the young people of Suai in a building that was rehabilitated with the help of an International NGO for the purpose in 2000. He was aided in his work by the use of a great four wheel drive people-carrier that was donated by Rotary Baldwin thanks to the efforts of Lee and the Friends of Suai.
This gallery of photographs shows the Youth Centre as it looked in 2003 and the new car donated by Rotary Balwyn.
Ergilio was also invited to represent Timorese youth at the first Timor Leste Conference in Melbourne in 2005. Ergilio presented papers on unemployment and HIV Aids.

About this time Ergilio and others attended media workshops held by Oxfam in which they made an educational video and Ergilio realised the potential power of video for communicating in his community and providing jobs and skills for the young people in his community.
In 2005 Ergilio requested the provision of video equipment from the Friends of Suai, for the purposes of producing educational videos in Suai. I had been lobbying in many quarters to set up a media unit in Suai and so at this time, the interests of all of us converged. We met again in 2006 when I travelled to Suai with Pat Jessen (Co-ordinator, Friends of Suai 2005 -) to deliver the equipment and hold the first workshops.
In fact Ergilio was a student in Agriculture, and he finished his undergraduate degree in 2007. But like many of his peers, due to circumstances beyond his control he has found himself working in an entirely different field. During 2010 and 2011 he is doing his Masters in Community Development in the Phillippines.

You can follow any responses to this entry through the RSS 2.0 feed. Both comments and pings are currently closed.