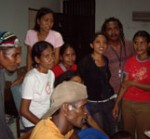 This
collection of videos were the first made by the youth of Suai
in their
first workshop in Suai in February 2006
. A short documentary about the youth media will be made and posted as soon as possible.
Be Mos nia Suai
was made by
Graciano and Terese
who worked together to make a small documentary issue based film about the
lack of access to water and the hardship
involved in just trying to get a daily water supply. They had no sound training or training in interview techniques. Just basic introduction to computer and editing software and very basic introduction to the video camera before they set out. The result is very interesting. All the music was selected from CD's I had with me. No permissions have been obtained. All the musicians are friends of Timor or Timorese. I hope they will forgive us this time!
Actividade Mercato
was made by
Ansa and Nato
. Ansa has since married and moved away from Suai and Nato, who became the Co-ordinator of YoMaTre has since left and moved on to other things. The title is pretty self explanatory, this team wanted to test their new skills by looking at their own market.
Ulang Tahun
was made by
Lin and Beti
. The birthday is the first and only drama made by anybody in YoMaTre. Lin was and is, always confident, she was the first to take the camera away from me and start shooting and consequently became the image we always used to represent the new media group. She has been in other workshops since and obtained employment with the Red Cross.  Beti was very quiet and apprehensive. She has since moved into pre-school care.