My name is Aureo Moniz Cardoso. I am from Suai-Covalima. I am in Melbourne, Australia studying English. I was given this opportunity by the Friends of Suai. I arrived in June and I am staying with a family in Port Phillip, Desleigh and Randall Kent.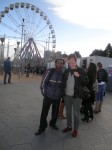 I applied for a scholarship from the Mangold Trust Fund in March this year and I received the happy news that I was successful one month later.
I began studying English in Pre-Secondary school in Fohorem when I was 16. At this time I studied for three years. I studied in Secondary school in Suai for a further three years.
I thought learning English would be very helpful. For now I hope this will help our community through the friendship with the people of Port Phillip.
[The photograph above shows me with Pat Jessen, Co-ordinator of the Friends of Suai at Birrarung Marr in Melbourne]