All the world is a stage and it is the mission of the Suai Media Space to give the wings to the youth of Suai to Fly. In their words the dream is:
"for the voices of the youth of Suai to be heard across the world".
Ergilio Vicente
adopted this catch phrase for the dreams of the youth of Suai in February 2006. Suaimediaspace exists to help bring that dream in to reality through the work of their new media unit named
YoMaTre
.  The aim of YoMaTre is:
To educate and develop skills in the Suai youth community that will enable them to communicate with their community, and other youth in the world, so they can build social networks that will benefit them and their local community in the future, socially and economically.
Ergilio and the documentary-maker met in July 2000. At that time, the idea of collaborating to develop a media unit for the youth of Suai and an on-line documentary, must have seemed like another wild promise from an unrealistic foreigner. A possibility so remote, that Egy wisely told her to go off and 'get started'. The Media Unit became a project of the Friends of Suai and the equipment was delivered six years later in February 2006. Since then
YoMaTre
have held several media workshops. In july 2009 a satellite dish was installed as part of the Uma Media Project set up by the International Centre for Journalists and they have access to Broadband in the youth centre. This is a photo of the group as they see the equipment for the first time.
Below from left Nato, Grassi, Lin, Gil & Ansa
.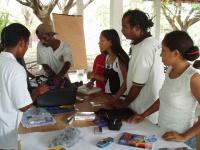 Below from front left to right Scorpion aka Graci , Nato, Lin, 2 unknown visitors, Ansa, Ergilio and Natalina
in our first workshop in February 2000.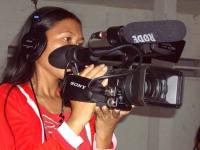 Right Above: Lin
- Lin was enthusiastic and the most confident student from the beginning so it was apt she was the first to take up my camera and start shooting us. More about
YoMaTre activities
.