Tetun: Massacre Igreja Suai 1999
The Suai Church Massacre and its surrounding events led to the formation of the Friends of Suai in Pt Phillip and Suai. The Suai Church Massacre took place in Suai, on 6 September 1999 following a free and independent ballot held on August 30th. The Timorese were asked to vote for Autonomy with Indonesia or Independence. They voted for independence. When the result of the ballot became known a terrible wave of violence spread across East Timor, orchestrated and funded by the Indonesian Military Forces. A scorched earth campaign saw most of peoples' homes and the infrastructure of East Timor burned to the ground. This drawing that is in the opening shot of The Circle of Stones documents the  Massacre. It was drawn by artist Natalino dos Reis Pires for a banner made for a re-enactment of the massacre, performed on the First Anniversary of the Massacre for the Timorese and international community in Suai for the Anniversary.
Massacre Art
These
drawings of the massacre
were drawn by local students.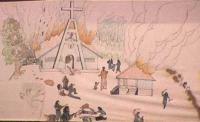 There were three priests there.
Father Hilario
Father Dewato
and
Father Soares
. Despite threats and growing violence the three priests decided to stay with the people. Adriano do Nacimento told me, the people thought they may be safe in the church, and if they were not, then at least if they died there, then their loved ones would be able to find their bodies afterwards. Nobody really knows exactly how many people died on those days September 5th and 6th, 1999. At least 50 in the church Adriano estimated and more in the unfinished cathedral were pushed to their death from a high shelf where they were sheltering. The three priests were killed and some people estimate 200 people died .
Massacre Art