For Tetun version – Fatuk Dadulas
The circle of stones the people of Suai placed outside the church where the Suai Church Massacre took place in September 1999 provided an inspiring example of how profoundly simple communication can be.
The Suai Church Massacre and its surrounding events led to the need for the communities of Covalima-Suai and Port Phillip to communicate with each other. Filomena dos Reis took the  Circle of Stones, a call for justice, to the U.S. and was use by Filomena in the United States Senate and numerous universities in 2002 when she did a speaking tour about the need for justice for the Timorese people.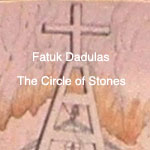 When the time came for remembrance on the First Anniversary of the massacre, the Circle of Stones became a sacred site for an outpouring of grief and mourning, that had grown from a single circle of bare rocks into to a circle piled with rocks covered with flowers and candles.
The Monument in these photographs was prepared for the Mass with Bishop Belo. Bishop Hilton Deakin, an old friend of East Timor from Melbourne, attended. The names of all those who died in 1999 were beautifully hand -written on the monument which was decorated with the traditional tais.
The Circle of Stones inspired the first documentary I made in this collection. A call for justice the first screening of the Circle of Stones was in the St Kilda Town Hall in Pt Phillip, at an event also called the Circle of Stones. This event was held to commemorate the Second Anniversary of the massacre.
At that event the Pt Phillip community were invited to bring rocks inscribed with messages for the people of Suai.