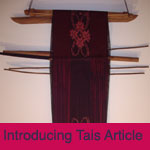 I first saw a tais, the hand-woven textile of Timor, at the launch of the Friends of Suai in March 2000 in the gardens next to Luna Park in St Kilda. The tais was displayed in an exhibition with pottery, paintings, wood carvings and other craft objects. I understood the impact of seeing these objects much later when I realised how different Timorese culture is to Indonesian culture. The next time I saw tais was in an exhibition mounted by Sara Niner for the Alola Foundation, at Gasworks in Port Phillip for the Melbourne Festival of Arts in October 2000.
Since 2000 Sara has been touring Timor researching and buying tais for the Alola Foundation collection  she has learned much about it. Since information about the tais is difficult to find I will use her words to describe a little of what the tais is, its meaning to the men and women of East Timor and a little about its role in Timorese culture. Sara wrote this for the Forum she convened in September 2008 titled: 'Exploring Meanings, Makers and Markets of Tais, the Hand-woven Textiles of East Timor'. The Forum was accompanied by an extensive exhibition in the St Kilda Town Hall Gallery in Port Phillip and there is a comprehensive slideshow here. Don't miss the response to this article by Cova Lima expatriate Balthasar Kehi  in the comments field

"Hand-woven textiles called tais (tie-iss) are used for cultural and ritual exchange, worn as costumes and, in recent times, have been offered for sale. Indigenous society in East Timor is ordered by kinship and alliances maintained through marriage and exchange. Textiles remain a valueable expression of local knowledge and culture. They are physical embodiment of femaleness and, as sacred Lulik objects, possess special powers. In Timor designs and techniques have been handed down matrilineal lines recording a woven narration of the culture, lore, paradigms and stories of Timor's history. By producing, exchanging and owning sacred hand-woven cloth, women can maintain a certain strength and power within this clan-based society. Master weavers hold an esteemed social position and are often related to royal Liurai lineage".
"The weaving, wearing and use of the textiles are essential to the Timorse sense of being and was a way of asserting their different identity during Indonesian occupation and for some women it consituted a form of passive resistance. Women also traded their products for goods the resistance needed and women are proud of their efforts. Today national recognition of the cultural importance of weaving is expressed by the wearing of tais by national leaders, their display in the national parliament, on national stamps and their use in government campaigns. Textiles play a role in construction of a new national identity.

The hand-woven textiles produced by East Timorese women are a vital part of their culture, especially after decades of destructive conflict. Weaving has also helped women overcome the tragedies of the past by providing a familiar and meaningful structure around which a community renews itself. Communities of women often come together to weave. It provides a sense of continuity with the past".
If you have an interest in textiles, weaving or tais, you can use the RSS Feed to ensure you receive an email when ever I post and tag an article or a story that refers to the tais.
You can follow any responses to this entry through the RSS 2.0 feed. Both comments and pings are currently closed.