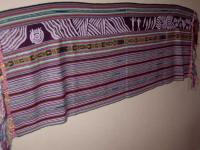 This post is a bit late but worth the wait. The East Timor Womens Association (ETWA), always comes up with creative and enjoyable events to raise funds and awareness to the role of women in East Timorese life beyond the apparently passive victims you see on current affairs television.
Women are primarily responsible for weaving tais, the traditional cloth of East Timor ( as many of you well know!). This event – 'Heru ini Lafu' means Weaving Life in Makalero, the language of the Iliomar region in the south-eastern highlands of East Timor. The event organised by ETWA was held in the Fitzroy Gallery in early December. I have chosen to feature the work of Annette Sax, Deborah Salvagnos, Alan Browne and Katheryn Philip .
I was especially thrilled to see the work of Annette Sax a Taungurung woman from the Franklin Mob. Her language group is part of the Kulin Nation. Pt Phillip is also situated on the land of the Kulin Nation.
In her artist's statement Annette expresses the similarities between her own people and the Timorese: "The women in the Mate Restu Weaving collective do not have written records to follow. Our traditions are oral as well. It is the spiritual connection that inspires our craft. I have painted one of my Creation Stories. I have interpreted the story ' How women were first made'. I have used the symbols that represent land and water." Annette explains the designs incorporate traditional and contemporary aspects of culture experienced in her daily family life. A culture that is "always changing and adapting".
Alan Browne has taken the raw materials of the traditional Indonesian Batik and incorporated a small piece of cut tais on to it. Deborah Salvagnos explains her pieces 'Light Works'. "The stories behind both the pictures and their accompanying cloth sheds 'light' on cloth sheds light on the intricate and beautiful lives held within them".
'Breaking Free from Poverty' was conceived by Deborah Salvagnos and Katheryn Philip "with a view of hope and strength … a look towards the future and the ultimage goal of women regaining control over their lives …"
Neville Kitchen presented Ego Lemnos with a new Macon guitar. Ego lost his when he accidently left it in Flinders Street Railway station. The guitar was Ego's 'best friend' and he was lost without it. He is in high demand as an entertainer and probably earns his living with it. So Deb appealed to who came up with the goods with great charity and grace.
You can follow any responses to this entry through the RSS 2.0 feed. Both comments and pings are currently closed.