1991 is the third point in history where the number of relationships between East Timorese people and Australian people grew fast and vigorously. The Santa Cruz Massacre is infamous in the history of East Timor.
The following videos show the impact of the massacre on the youth of East Timor .  A video letter titled
'Letters to Suai' written by the documentary-maker  to friends in Suai, most of whom will see these videos for the first time on this website, serves as an introduction to the videos and as a potted history of the solidarity with East Timor in Port Phillip. ( Clicking on the images below will take you directly to webisodes.)
Re-enactment of the Massacre Santa Cruz Cemetry 12 November, 2000
More YouTube footage of the Massacre. 
I'm privileged to be able to bring you stories made possible by Tia Veronica Pereira. Tia Veronica is well known in Australia and Cova Lima for her knowledge of her culture and for using her knowledge to draw attention to East Timor's plight under the Indonesian occupation.
I met Veronica through an introduction initially from Louise Byrne an activist living in Pt Phillip. I was assisted by Sally-Anne Watson and introduced to Veronica by Sally-Anne. Sally-Anne is the author 'Children of the Resistance' (1996) and 'Buiberre' a volume of stories told by twenty East Timorese women living in East Timor under the Indonesian occupation. I was introduced to Sally-Ann by Lee Kirk in Darwin in 2000.
Veronica is well known in Darwin where she has lived since 1985, because her activities in support of East Timor's independence were often recorded for news media. Veronica was never educated to read and write but she is well educated in her traditional culture which she values highly.
In an extraordinary act of love Veronica wove the names of the 271 young people massacred at Santa Cruz on 12th November, 1991, into five tais. (Tais is the traditional woven cloth of East Timor). Her husband Antonio with the help of Rob Wesley-Smith and others, built a large scale model Los Palos (Lautem) Sacred House in Darwin. Then the tais and the house were exhibited at the Museum for Contemporary Art on Circular Quay in Sydney in 1996. The exhibition titled 'Firmly Gripping the Earth' was mounted at a time when the Timorese were still struggling for independence from the fatal oppression of the Indonesian occupation.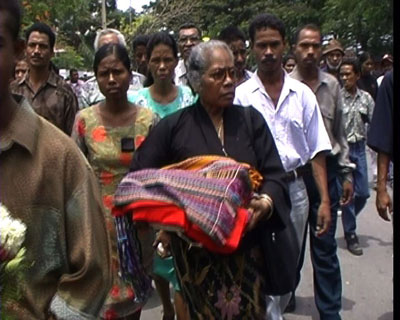 When I met Veronica it was July 2000 and we went to Suai together for my first trip there. Veronica introduced me to her family there and I video-taped her visits. Veronica was visiting there to see if help was reaching the people of Suai. Veronica is from Fohoren which is in the mountains of CovaLima. Her husband Antonio is from Suai, and she herself lived there after their marriage. Following this visit Veronica asked me to return to Timor with her in November of 2000, to video-tape her returning the 271 tais commemorating the Santa Cruz Massacre, to Timor.
I cannot take credit for this little documentary any more than I can for many of the other pieces on this site. I am simply playing the role of facilitator and editor. Veronica knew what she wanted to do, and what she wanted recorded, that is why, she asked me to follow her with my camera. When I interviewed her I asked her very simple questions in English, and using these as her departure points Veronica told her story and orchestrated the picture I shot by her own actions. This video is still to be finished and uploaded.
Clicking on the images below will take you to other stories that show the importance of the tais in Timorese culture.