2 Outubro 2008 Jen Solok tuir Internet Istoria kona ba Soru Tais
English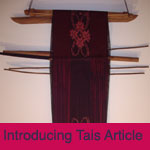 Isin primeiru hau hare tais maka ema Feto Timor oan sira soru ba loron ida iha fulan Marsu 2000 kuanda City of Port Phillip (Cidade Port Phillip) lancar projeto Belun Suai (Friends of Suai) iha Jardim bot ida besik Luna Park, St Kilda. Hau hare tais maka ema pamer (expor) hamutu ho sasanan ceramica, pintura, escultura hosi ai ho arte seluk sira. Hau hatene impaktu hosi hare arte sira nee ikus mai bah au nia hanoin. Hare arte sira nee hosi Timor hau hanoin katak cultura Timor la hanesan cultura Indonesia Loro Monu (Indonesia Barat) nian, por examplo, cultura Java ho cultura Bali. Isin segunda hau hare tais kuando Sara Niner organizar eksposisaun (pameran) ida kona ba Alola Foundation iha Gasworks iha Port Phillip durante Melbourne Festival of Arts (Melbourne nian Arte Festival).
Desde 2000 Sara dala isin barak tiha ona visita Timor halo pesquisa (riset) kona ba tais i sosa tais bodik colesaun Alola Foundation nian. Sara aprende barak tiha ona kona ba tais Timor. Tan (porque) difisil tebes atu hetan informasaun kona ba tais, hau usu lisensa ba Sara atu usa nia lia fuan duuk bodik explicar sa ida maka tais nee, sa ida maka significado hosi tais bodik mane ho feto sira iha Timor Leste, sa ida maka tais nian funsaun iha cultura Timor. Sara hakerek nee bodik Forum maka nia organisar iha fulan Setembru 2008 iha St Kilda Town Hall, Port Philip, Melbourne: " Exploring Meanings, Makers and Markets of Tais, the Hand-woven Textiles of East Timor" ("Explorar Significado, Produtora ou Badaen ho Mercado Hosi Tais").
Tais ema usa bodik halo lia adat, bodik simu malu hanesan feto sau mane ho uma mane, bodik hatais ba oras fiesta, bodik bidu iha dahur, bodik faan iha mercado. Iha sociedade Timor oan rai nain iha Timor Leste halo kmaluk i belun malu tuir dalan kawen malu hanesan uma mane ho feto sau mane. Sia simu malu hanesan belun ho kmaluk hodi fo tais ba malu. Tais sai hanesan matenek i cultura ema Timor oan nian duuk. Tais hanesan personafikadu fisiku hosi feto i, hanesan buat lulik, tais ho nian beran/puder especial. Iha Timor Feto makerek badaen soru tais nian sira maka fo hatun ba sira oan si bein oan istoria kona ba cultura, crenca popular, paradigma si Timor nian historia. Hodi soru tais, truka tais ba malu dan hahulin tais lulik, feto Timor sir bele hetan beran si influencia iha sociedade Timor maka hetan nia moris hosi uma lulik. Ema hafolin no respeitu feto makerek badaen tebes ba soru tais nian. Sira nee ema hare our considerer hanesan feto makerek badaen. Dala barak sira nee mai hosi uma lulik makerek badaen ou uma liu rai nian.
"Soru tais, kabala tais, sakat tais nee essencial ba i significar sira nian identidade hanesan ema rai Timor oan duuk durante Indonesian nian occupasaun i bodik feto barak actividade kona ba tais nee hanesan forma ida hosi resistancia passive. Feto sira mos faan sira nia tais bodik hetan osan no hahaan maka sira presija durante resistancia i sira mos horan diak ba sira nian actividade kona ba tais i resistancia. Hoje isa reconhecimento nacional kona ba importancia cultural hosi soru tais. Reconhecimento nacional nee manifestar iha realidade katak lider nacional sira hatais tais, exposisaun (pameran) tais iha parlement nacional, selo (perangko) nacional usa fotografia tais, i lider sira usa tais durante campanha. Tais ho nia funsaun ida iha construsaun identidade nacional foun.
Tais ho matenek badaen soru tais iha Timor Loro Sae funcionar hanesanTimor oan sira nian cultura ida, especialmente depois conflito destrutivo iha tinan rua nulu resin hat laran. Actividade soru tais tanbem tulun feto sir abele vencer (atasi) tragedia sira hosi tempo liu ba tan actividade nee oferecer strutura ida maka familiar i significada ba communidade bodik halo foun nia aan. Communidade feto sira dala barak mai hamutu bodik atu soru tais. Actividade soru tais hamutu nee oferecer ba sira senso continuidade ida ho tempo uluk."
Iha tinan 2000 hau terik ba Louise Byrne katak hau atu ba Timor Loro Sae. Louis terik ba hau atu ba buka hetan Senora Veronica Pareira maka matenek badaen bot soru tais nian mai hosi Fohoren, Distrito Covalima. Hau ba hasoru tebes Veronica. Hau halo film ida kona ba Veronica. Film kona ba hau nia belun ho Veronica nee atu sai ikus mai. Filme nee nia jujul (titulo): "Lori Fila Hikar Tais." Hau nia relasaun ho Veronica nee ikus mai halo moris hau nia interese iha tais ho actividade soru tais. Tan nee hau ba buka hetan feto matenek soru tais sira iha Timor. Hau filmar sira durante sira soru tais. Hau filmar feto, mane ho lawarik oan sira bidu (dansa) hodi tau tais ba aan. Nee incluir ceremonia simu beinaka, dahur, bidu, tebe, bidu kikit, bidu kuda hare no batar nian, bidu halo funu nian. Hau kalon (espera) katak matenek sai iha bidu i tebe sira nee atu continua no desenvolver. Si ita hatene liu tan teni kona ba bidu i tebe, por favour hakerek ita nia commentario ba caixa nee laran.
Si ita iha interese ba tais i actividade soru tais, ita bele usa RSS Feed bodik atu hatene halo pasti (assegurar) katak ita simu email kuando hau responde ba itu i postar ba ita artigo ou istoria kona ba tais.
You can follow any responses to this entry through the RSS 2.0 feed. Both comments and pings are currently closed.